Sarah Fowler
Ohio State Board of Education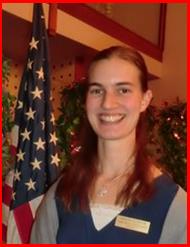 Sarah Fowler is a former small business owner, operating "Sarah's Eggs" for thirteen years. She has taught hand-on skills, including canning, sewing, and piano, to small classes of adults and children in both the United States and Mexico. She is also involved in her parents' business with a focus on graphic design, sales and marketing, and booking keeping.
A homeschool graduate, Ms. Fowler was elected to the State Board of Education in 2012 and has been representing District 7 for four years. During this time, she has brought her unique and varied background into service on a number of board committees, including: the Achievement Committee, the Appointments Committee, and the Operating Standards Review Committee as vice-chairman.
Ms. Fowler was the State Board's 2015 appointee to the National Association of State Boards of Education workgroup on Governmental Affairs, which focuses on federal education law and policy. During the fall of 2015, she also served as an advising board member to the Sponsor Evaluation Panel, which made recommendations for improvement of Ohio's Community School accountability system.
Currently Ms. Fowler serves on the State Board Executive Committee, the Urban and Rural Renewal Committee, the Legislative and Budget Committee, and as vice-chairman of the Capacity Committee.
She resides with her family on a small farm in Ashtabula County and enjoys reading, history, and teaching piano.
Toledo Tea Party
Monday, August 14th, 2017
7 – 9 pm
Hampton Inn
3434 Secor Road
(Secor Rd south of I-475)
Toledo, OH 43606, USA